Alarm systems and motion detectors can offer you protection and security, but there are other steps you can take to prevent your home from being burglarized.
---
According to Statistics Canada, alarm systems have helped reduce the number of home break-ins. Insurance companies favour those who have such security systems in place, however, follow our additional steps to further prevent home break-ins.
Doors and windows MUST be locked.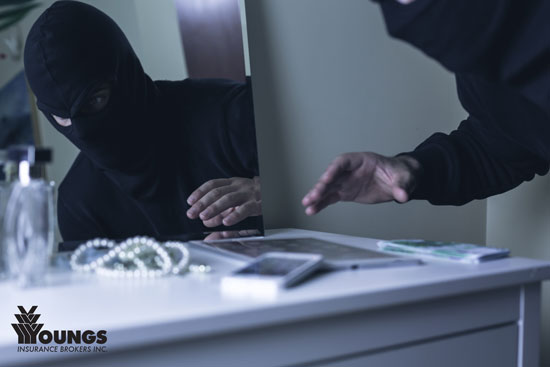 To prevent a break-in, always lock your doors and windows, especially when you aren't home. Make sure that windows can't be open from the outside, but that you can unlock them from the inside in case of an emergency. It's important to change your locks or combinations if you move into a new home or lose your key. You can also use security bars on basement windows or sliding doors. If you have a spare key outside your home, make sure it's well hidden.
Keep valuables out of sight.
Closing your blinds and curtains at night can stop people from seeing in, but you should also keep valuables out of sight. If a thief can see valuable items, such as jewellery or electronics, they are more likely to break-in. Small valuable items can easily be taken from your home. Keep these items in a safety deposit box or an unlikely place. It is always a good idea to take an inventory of your valuables in your home with videotapes or photographs.
What to do while you are away.
Home break-ins are less likely if it looks like someone is home. Before leaving for vacation, stop your mail or have someone pick it up for you. To make your house look lived in you can keep your grass cut, a shoveled driveway, and a car in the driveway. You can also use timers on your lights. If you have a good relationship with your neighbour, let them know how long you will be away so they can keep an eye on your home. Avoid posting on social media that you are going away and wait until you are back to post those great vacation pictures!
Remember to limit the number of people who know you will be away from your home. We hope you have found our prevention tips useful!  
>>Contact US for a QUICK Auto Quote 
---
SIMILAR POSTS
>> The Top 3 Reasons You Shouldn't Drive When You Are Tired
>> Buying a new car? Avoid these mistakes!